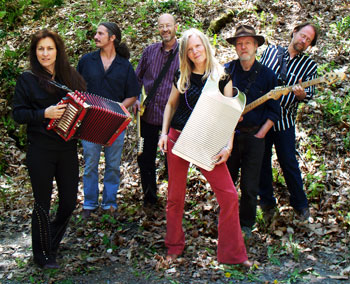 PLANET ZYDECO is an exciting New England-based zydeco band that captures the essence of traditional rural-style accordion-driven dance music as it is played in clubs and dance halls in southwest Louisiana today. Bandmembers hail from the
tri-state area of southern Vermont, western Massachusetts, and New Hampshire.
The Planet's funky syncopated sound includes Rose Sinclair on accordion, Peter Pettengill and Nick Keil on twin electric guitars and harmony vocals, Alan Bradbury on bass, Paul McTaggart on drums, and Suzanne Wozniak on rubboard. The rubboard, or frottoir, as it is known in Louisiana, is made of corrugated metal, worn like a vest and played with spoons or bottle openers, and is a rhythmic trademark of the zydeco sound.
The band plays a popular mix of up-tempo songs, as well as slower blues-inspired numbers and traditional waltzes for enthusiastic audiences throughout the Northeast.
Purchase CD from Elderly Instruments www.elderly.com
This sextet from the greater Brattleboro area manages to sound both tight and relaxed at the same time, in spite of being from southeast Vermont instead of southwest Louisiana. Their Creole-spiced allegiances within the zydeco community are clear by their choice of covers: four Keith Frank tunes, three by the Ardoin brothers and one by Geno Delafose. These Yankees also nod to the Cajun tradition with "Jolie Blonde" and a Dewey Balfa song. Their album is recorded entirely live in the studio and is played like they see a floor full of moving bodies right there in front of them. Bass, drums and rubboard lock into a rock steady rhythm with the accordion and guitar bumping and grinding around the beat. Saving it up to go all night, just like good dancers do.
--City Newspaper, Rochester, NY
Bassist Alan Bradbury has been playing zydeco and cajun music for over 20 years, and is a founding member of the award-winning Cajun band, Magnolia. Alan has been called on to back up many Louisiana artists who come to the Northeast including, Dewey Balfa, D.L. Menard, Corey Ledet, and the Savoy-Doucet Band. He lives in Barrington, RI
Guitarist Nick Keil brings a big , old school funk attitude to the band. Raised on James Brown-era soul, he cut his teeth on guitar and vocals in a number of funk and rhythm and blues bands. In the '90s, Nick was invited to a zydeco jam that became the nucleus of Backroad Zydeco, a popular Northeast band that he played with for several years. Nick brings his soulful vocals and electrifying guitar playing to Planet
Zydeco. He lives in Westminster West, Vt.
Drummer Paul McTaggart kicks out the groove for Planet Zydeco. Paul's versatility and love for different kinds of music has landed him the drummer's throne in country, rockabilly and roots-music bands currently including Girl Howdy, Donald Saaf String Band, and the Tim Dyer Experimental Blues Project. Paul has also layed down drum tracks for local songwriters in session work over the past 15 years. He lives in Putney, Vt.
Peter Pettengill has been playing zydeco music since the early 1980s. A keyboard player and guitarist, he picked up the piano key accordion after hearing Clifton Chenier in San Francisco Bay Area clubs in the early '80s. From the mid 1980s until 2000 he fronted the Western Massachusetts-based roots-rock band the Barnstormers, playing zydeco-influenced blues, rock and rockabilly all over New England. In 1996 he joined Hot House Zydeco (with fellow planetarian Rose Sinclair,) contributing vocals, guitar, and some accordion to a more traditional zydeco sound that combined old-style zydeco tunes with the younger contemporary styles. He brings his love for Clifton-style blues, New Orleans funk guitar and swamp pop to Planet Zydeco where his duties include singing, rhythm guitar and an occasional accordion number. He lives in Hinsdale, N.H.
Rose Sinclair first heard a tape of Creole accordionist Bois Sec Ardoin in 1982, saved her pennies for a button accordion and headed to Louisiana to find the source. As a multi-instrumentalist (accordion, banjo, steel guitar, bass), Rose has studied, performed and taught different styles of traditional music for 25 years, including a 10-year run with The Heartbeats, an all-woman neo-traditional string band which toured in the U.S., Canada and Europe and was featured on A Prairie Home Companion, Mountain Stage and Voice of America. During the '90s, Rose also played button accordion with two Northeast-based bands, The Flames and Hot House Zydeco. Today Rose plays single-row, triple-row and piano accordions in Planet Zydeco, and keeps busy with other musical projects, including playing steel guitar with the classic honkytonk outfit Girl Howdy, and upright bass with the New Hampshire-based western swing outfit, the Westernaires, as well as session and sideman work with various artists. She lives in Greenfield, Mass.
Suzanne Wozniak started playing rubboard with Backroad Zydeco in 1996, inspired by her love of zydeco music and dance. She is passionate about the culture of southwest Louisiana, and spends extended time there each year, studying and playing with rubboard players and musicians that she admires. As a dancer herself, she loves to be part of a band that inspires people to get up and move. She also teaches zydeco dance in the Northeast. She lives in Putney, Vt.
WHAT IS ZYDECO?
Half a century ago in the rural juke joints of southwest Louisiana, black Creole accordion players like Clifton Chenier and Boozoo Chavis combined traditional Cajun tunes with the percussive feeling of the blues, a hint of country and a good helping of R & B to create a music that kept the patrons on the dance floor 'til dawn. The term "zydeco" is derived from the Depression-era saying, "Les haricots sont pas sales," when people were too poor to afford salt for the snap beans. A truly American musical form, zydeco continues to grow in popularity throughout the world with regional festivals devoted to the music and its infectious style of dance.
For more information, contact planetzydeco@yahoo.com or 802-387-8711.